This is held on the day prior to your walk departure date in the Ultimate Hikes Centre in Queenstown at 2.45pm. The briefing will explain the next few days of your walk, run through the packing checklist and show you the equipment you can borrow. 
Day 1 - Queenstown to Steele Creek Lodge
18km (11.3 miles)
Level of difficulty: Moderate
Track Terrain: . Some inclines with graded track through beech forest with some rocky sections.

Your morning coach trip from Queenstown follows Lake Wakatipu to Glenorchy. Continue around the lake to the mouth of the fabled Greenstone River, you don your pack and follow the Greenstone track into the stately red beech forest. Then you return to the river and views of Mt Christina reward you as you stroll up the final river flats to Steele Creek Lodge.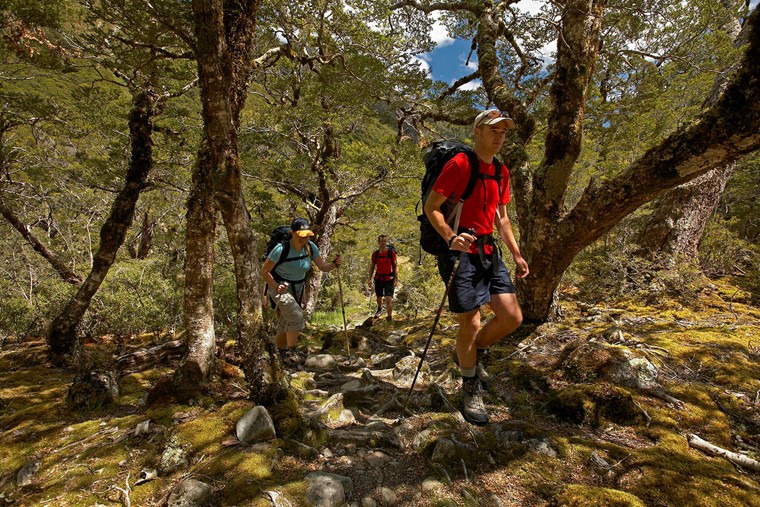 Day 2 - Steele Creek Lodge to Lake McKellar
12 km (7.5 miles)
Level of difficulty: Easy.
Track Terrain: Beech forest and wide valleys, mainly flat.
After a hearty breakfast, walk through a sea of red tussock on the river flats. Ancient pines and cottonwoods cling to the sheer mountain sides, which come alive with water on rainy days. The track allows spectacular views of the Ailsa and Livingstone Ranges as you approach Lake McKellar and the lodge.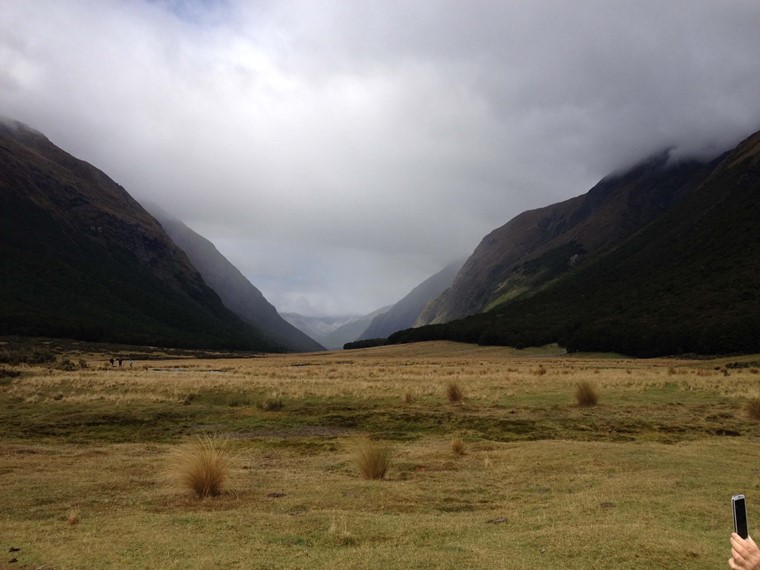 Day 3 – McKellar Lodge
Rest & exploration
This is your chance to explore the area on foot, row on the lake or just relax and read a novel. There is an activity for everyone. Take a stroll to the waterfall, or hike up to the lookout for a view down the river flats and your first glimpse of the Routeburn Track. If you are ready for a challenge you can climb higher to the unchartered tops and marvel at Fiordland's mountain scenery.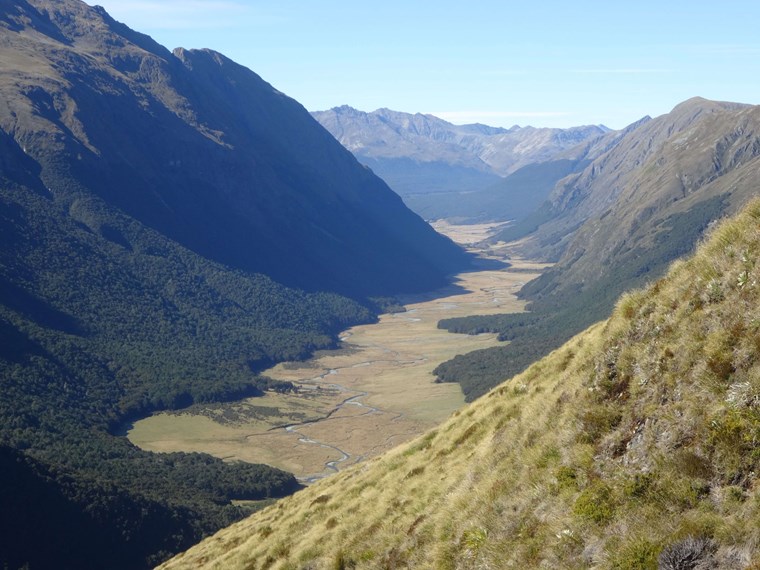 Day 4 - Lake McKellar to Mackenzie Lodge
15.5 km (9.5 miles)
Level of difficulty: Moderate to challenging
Track Terrain: Some steep up hill, but mainly a steady incline with narrow sections and rocky in parts.
Today you cross the main divide via the Greenstone Saddle and glimpse mountains and lakes through lush forest. You meet the Routeburn Track at Lake Howden and have the option to make the ascent to Key Summit. Here you can sit among the alpine plants and gaze down three valleys from which water flows to three different coasts. You then descend back down to Lake Howden hut for a hot drink and picnic lunch, before gradually climbing through lush silver beech forest to the base of Earland Falls, quite a sight in wet weather! You will look over the Hollyford Valley to the ice capped Darran Mountains before descending to the splendid lodge at Lake Mackenzie where refreshments, a hot shower, three course meal and a comfortable bed are waiting.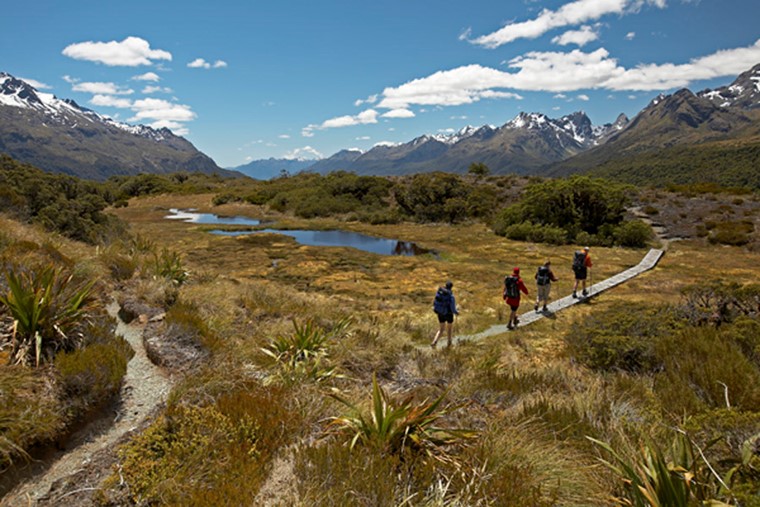 Day 5 - Mackenzie Lodge to Routeburn Falls Lodge
11 km (6.9 miles) 
Level of difficulty: Moderate 
Track Terrain: Uneven and steep in places, with a series of zig zags, then mostly flat, before heading downhill with some boardwalks and steps
You leave the ancient forest draped in moss and lichen and enter the world of daisies, buttercups, gentians and edelweiss. At Ocean Peak Corner, you have a full vista of the Darran Mountains across the Hollyford Valley, which slices through Fiordland to the distant Tasman Sea at Martin's Bay. After lunch at the Harris Saddle, you can ascend Conical Hill for a panoramic view of the surrounding peaks. After walking around Lake Harris you descend into the upper basins of the Routeburn Valley, with the towering mountains above. Spend your final night at the beautifully located Routeburn Falls Lodge.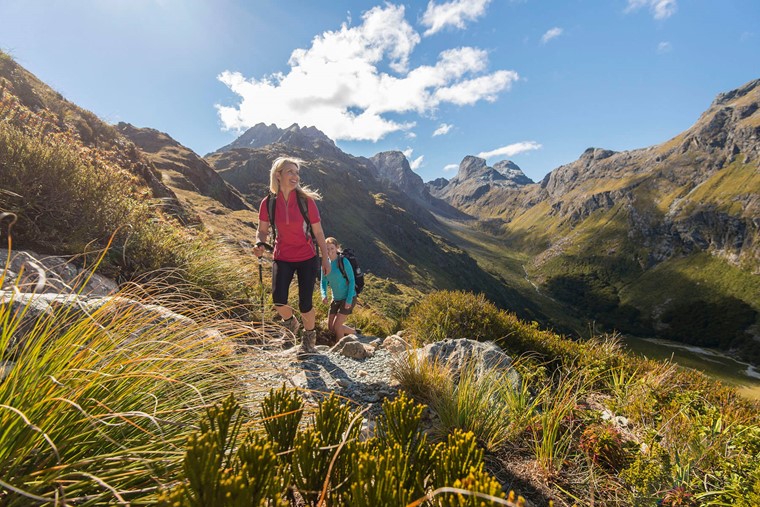 Day 6 Routeburn Falls Lodge - Queenstown
9.5 km (6 miles)
Level of difficulty: Easy.
Track Terrain: Mostly wide and smooth with some rocky patches.
Take time to enjoy the dramatic landscape around the Falls, before descending to the alpine pastures of the Routeburn Flats. The track shadows the river as it roars through a magnificent gorge. Gorge Flat is a great place to stop for lunch.  From here it is a gentle walk through the beech forest to the Road End. A coach will take you back to Queenstown, stopping at the small town of Glenorchy on the way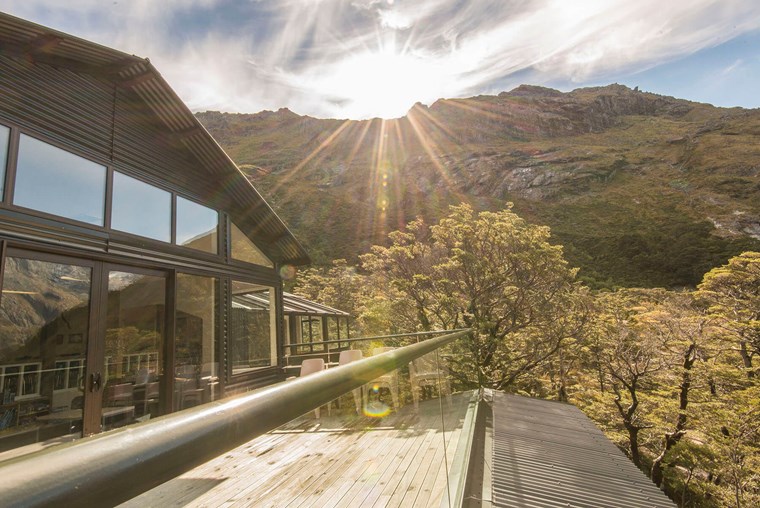 More information on track conditions