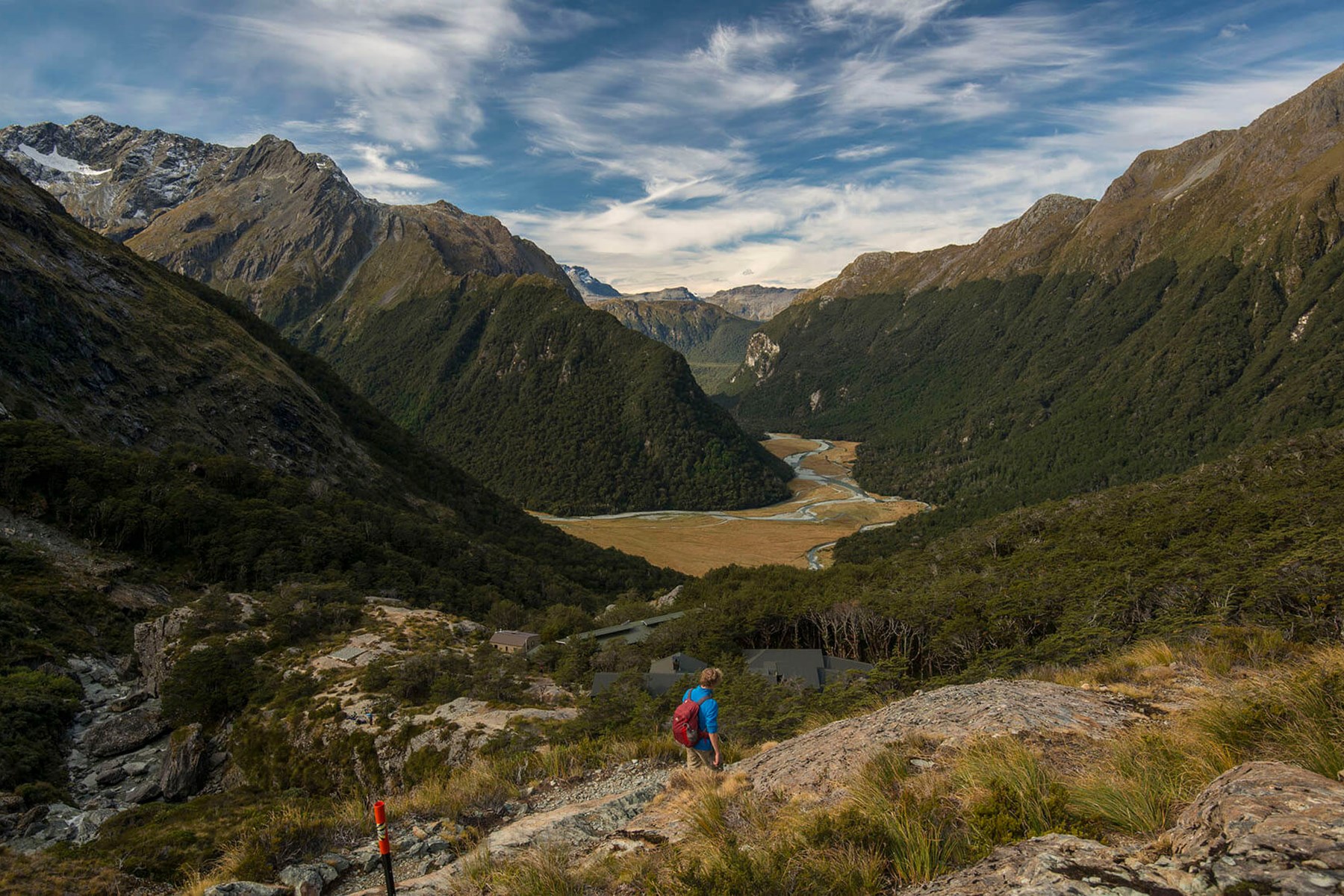 Routeburn Track
Routeburn Track Itinerary
This is held on the day prior to your walk departure date in the Ultimate Hikes Centre in Queenstown at 3.45pm. The briefing will explain the next few days of your walk, run through the packing checklist and show you the equipment you can borrow. 
Click on the image icon on the photo to view the gallery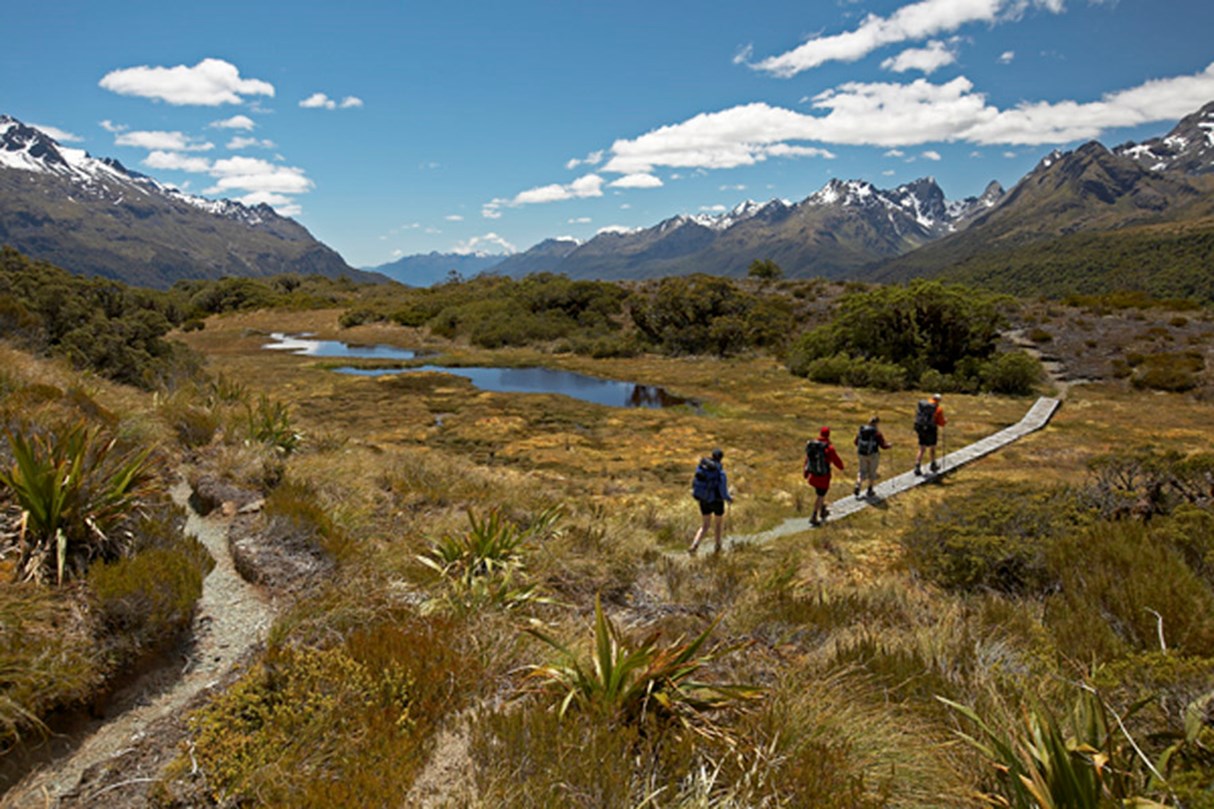 Day 1 - Queenstown to Mackenzie Lodge
12km (7.5 miles)
Level of difficulty: Moderate.  
Track Terrain: The track is reasonably smooth, with some steep rocky sections.
Your adventure begins with a coach ride from Queenstown to the Divide on the scenic Milford Road, stopping at Te Anau for morning tea. You will climb the wide and well formed track from the Divide to Key Summit. Here you can sit among the alpine plants and gaze down three valleys from which water flows to three different coasts.
You then descend to Lake Howden hut for a hot drink and picnic lunch, before gradually climbing through silver beech forest to Earland Falls.  From there the descent into Mackenzie lodge is steep and rocky, so take your time.  Refreshments, a hot shower, three course meal and comfortable beds are waiting at Mackenzie Lodge.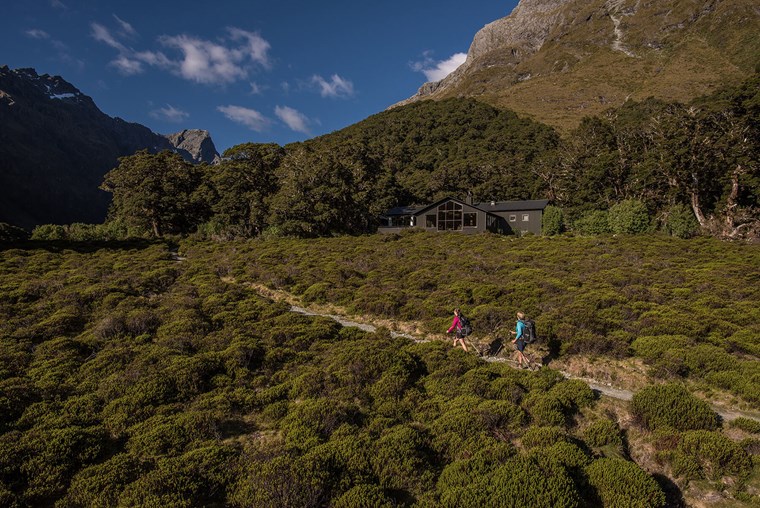 Day 2 - Mackenzie Lodge to Routeburn Falls Lodge
11 km (6.9 miles)
Level of difficulty: Moderate.
Track Terrain: Uneven and steep in places, with a series of zig zags, then mostly flat, before heading downhill with some boardwalks and steps.
Your day starts with an ascent through ancient forest, and alpine zig zags to Ocean Peak Corner, where you have a full vista of the Darran Mountains.  Crossing the Hollyford Face, you will stop for lunch at the Harris Saddle. Walk up Conical Hill for a panoramic view of the surrounding peaks. From Lake Harris you descend into the upper basins of the Routeburn Valley, with the towering mountains above. Spend your final night at the beautifully located Routeburn Falls Lodge.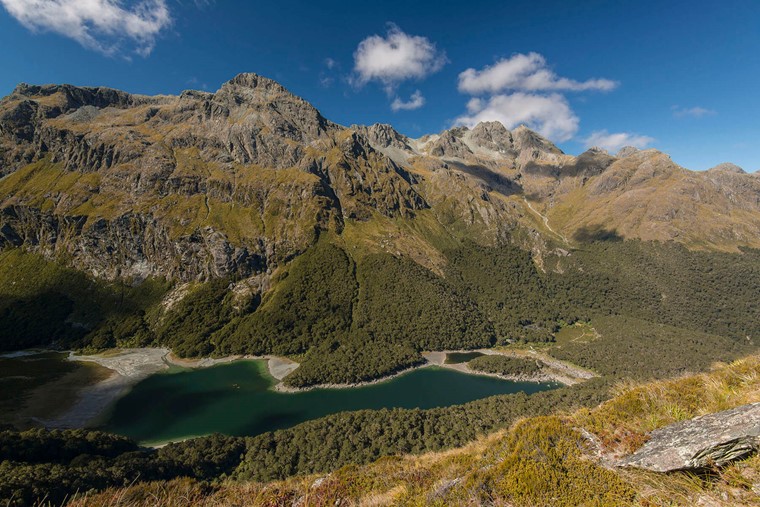 Day 3 – Routeburn Falls to Queenstown
9km (5.7 miles)
Level of difficulty: Easy.
Track Terrain: Mostly wide and smooth with some rocky patches.
Take time to enjoy the dramatic landscape around the Falls, before descending to the alpine pastures of the Routeburn Flats. The track shadows the river as it roars through a magnificent gorge. Gorge Flat is a great place to stop for lunch.  From here it is a gentle walk through the beech forest to the Road End. A coach will take you back to Queenstown, stopping at the small town of Glenorchy on the way.