Pre Track Briefing
This is held on the day prior to your walk departure date in the Ultimate Hikes Centre in Queenstown at 4.45pm. The briefing will explain the next few days of your walk, run through the packing checklist and show you the equipment you can borrow.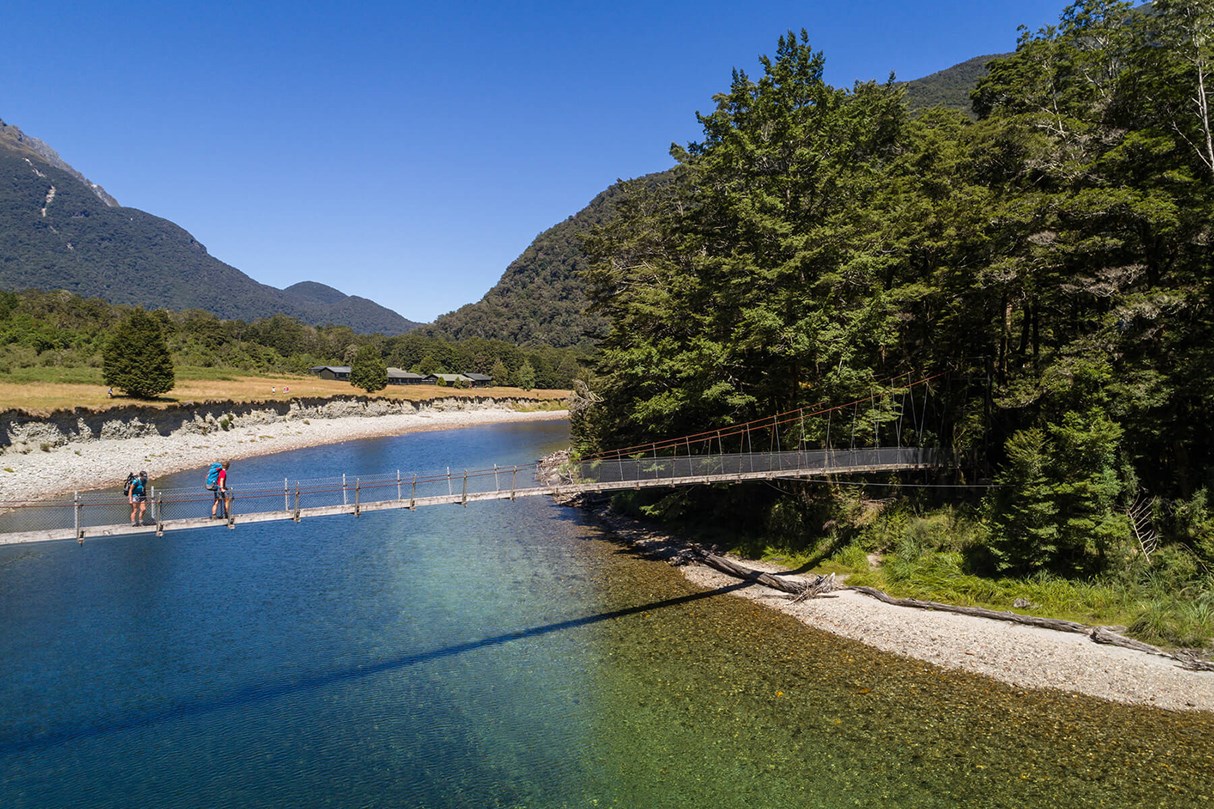 Day 1 - Queenstown/Te Anau to Glade House 
1.6km (1 mile)
Level of difficulty: Easy
Track Terrain:  Nature walk - Some rocky sections and uneven ground.
You begin your adventure back at the Ultimate Hikes Centre to meet the group, your guides and bus driver. The bus travels around Lake Wakatipu to Te Anau, with a brief stop in Mossburn. Lunch is at the Hollyford Café in Te Anau before you resume your bus journey to Te Anau Downs. From there it is a one hour boat ride up Lake Te Anau to Glade Wharf and the start of the Milford Track. Walking 1.6km up the track you emerge into the Glade where our lodge sits beside the Clinton River. After refreshments a guide will take you on a short nature walk up the Glade Burn to familiarise yourself with the terrain before settling into the lodge for drinks, snacks, and dinner followed by a short briefing on the day ahead.  Lights out is at 10pm.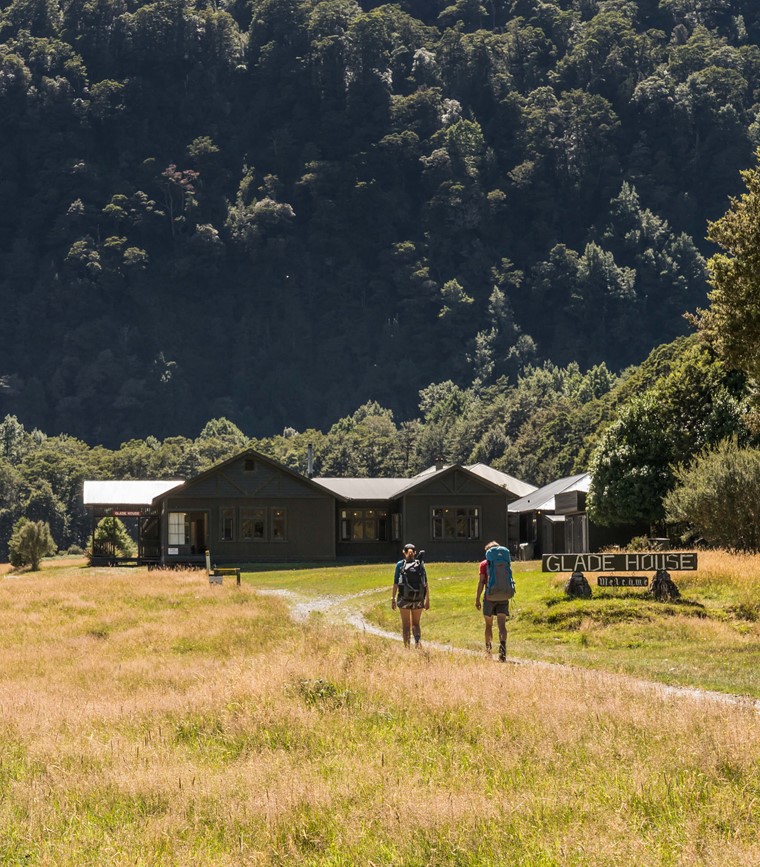 Day 2 - Glade House to Pompolona Lodge
16km (10 miles)
Level of difficulty: Moderate
Track Terrain: Mostly flat graded track with some uneven and rocky sections and a short incline to the Lodge.
Today, after breakfast and packing your lunch, you will cross the Clinton River swingbridge and follow the river along a graded track. Beech forest covers this section until you get to the Prairie –a wide open space with tall grass and Manuka bush. Take a side track to Prairie lake for a dip before heading up towards Pompolona Lodge to be welcomed by your lodge host with a cold drink. Relax with a hot shower, rinse out your hiking gear and enjoy a pre-dinner drink before dinner. A briefing on the next day follows before lights out.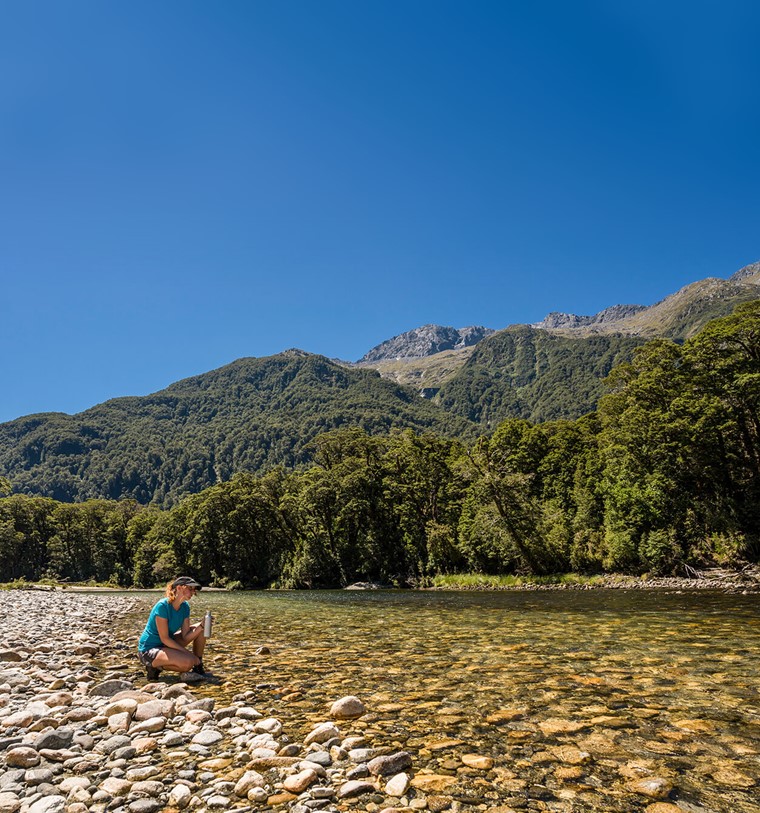 Day 3 -  Pompolona Lodge to Quintin Lodge 
15km (9 miles)
Level of difficulty: Challenging
Track Terrain:  Steep uphill following zig zags to Pass Hut on rocky uneven track.  Steep downhill (including steps) to Quintin lodge.

Sutherland Falls - This side walk from Quintin Lodge is an hour and a half return.  It is steep in parts with some large steps, but well worth the trip!
This is the most challenging day, especially in inclement weather, so take your time and walk at your own pace. The track leads up to the head of the Clinton Valley, before climbing the Mackinnon Pass in a series of zig-zags.  At the top you will be rewarded with spectacular panorama views and a rest at the Mackinnon Memorial.  Walk on to the highest point and stop for lunch with hot drinks in Pass Hut. The descent into the Arthur Valley to Quintin Lodge is steep and rocky so again take your time. Once there, drop your bags, and have a snack because you can't miss taking the optional round trip to the Sutherland Falls, the world's fifth highest waterfall.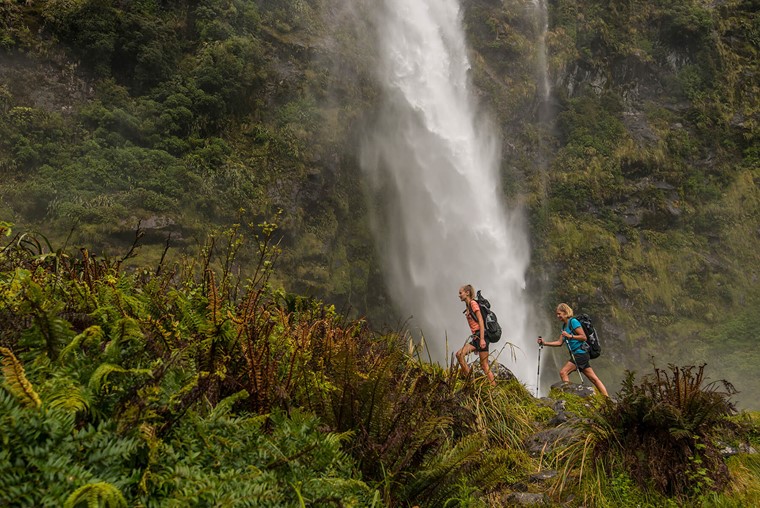 Day 4 - Quintin Lodge to Mitre Peak Lodge
21km (13.5 miles)
Level of difficulty: Moderate
Track Terrain:  Mainly flat well-graded track, however it is uneven ground with some rocky sections.
The track is well graded but it has some uneven and rocky patches. It's the day of more waterfalls though, even if it's not raining!  Mackay Falls is first, followed by Giants Gate where you stop for lunch. From here it's a wide track to Sandfly Point and the boat across to Milford Sound and Mitre Peak Lodge. Enjoy the views of Mitre Peak and join your friends in the bar for a well-earned celebration.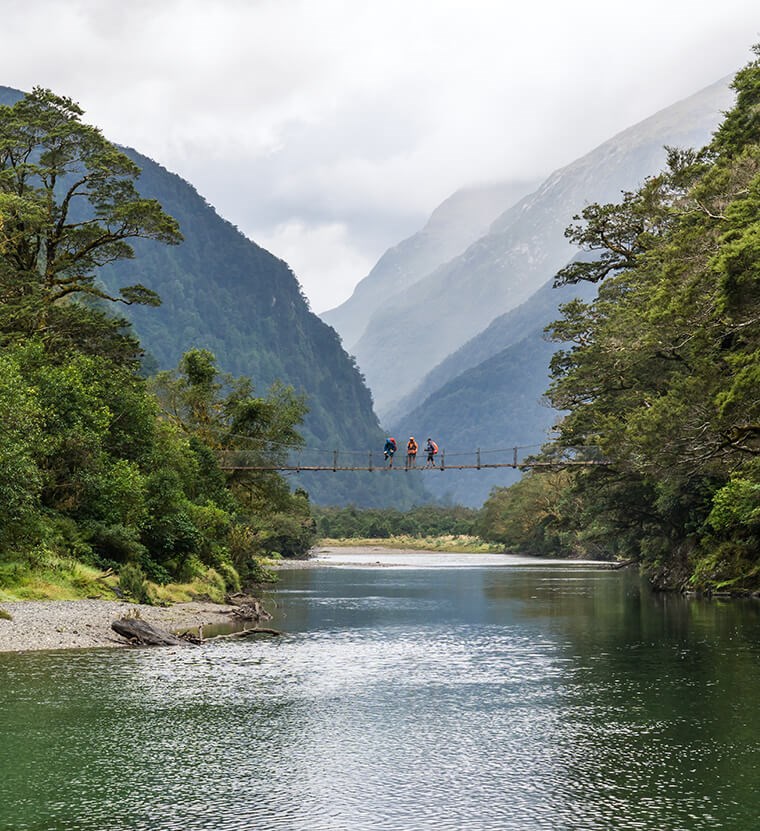 Day 5  Milford Sound - Queenstown

No walking
This morning after breakfast the guides will ensure your belongings are labelled to go in the bus. The bus will drop you at the wharf to board the Cruise on the famous Milford Sound. Enjoy waterfalls and wildlife and glimpse the Tasman Sea before returning to dry land and hopping back on the bus for the ride back to Queenstown, stopping briefly at Te Anau and enjoying your packed lunch along the way. The bus arrives back in Queenstown about 4pm at the Ultimate Hikes Centre.